An 18th century garden in Abbots Leigh, North Somerset.
Within this older garden, and in the shadow of a 250 year old Cedar tree is a garden within a garden – a late Arts & Crafts enclosure, dating from 1937, defined by a central linear water feature. Some 20m in length, 1.5m wide, 1m deep with a central Monet bridge, the water feature is best described as a water lily canal.  Its linear shape makes me want call it a canal. To be a 'rill' I think it needs to be flowing somewhere? Strictly speaking it should be a pond as it is an artifical standing body of water – but that doesnt seem to do it justice – or describe it well enough. A water lily canal seems to have stuck.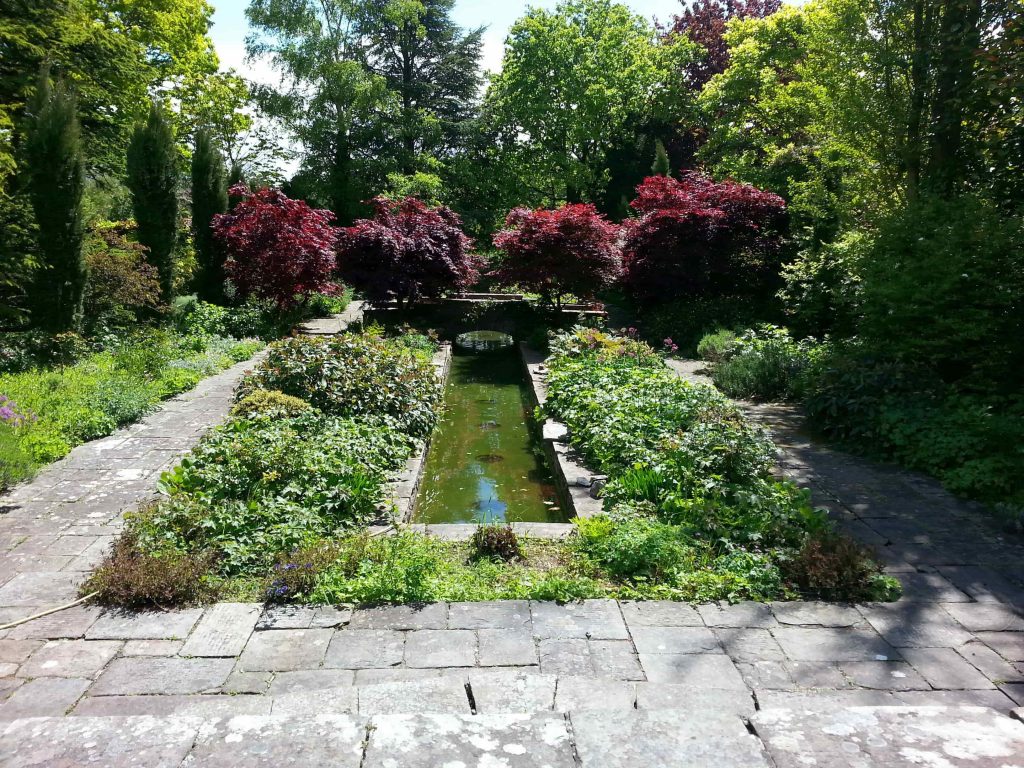 The marginal planting was re-designed over a decade ago by a Chelsea award winning designer Stuart Gibbs. When we took over the maintenance of the garden these margins were very full. There's an on going debate how much thinning to do – whether back to a classic formal lawn (deckchairs and pimms) or try and re-define the luxurious waterside planting abundance (ie overgrown).
The architecture of this early 20th century garden is one of its beautiful and fascinating features though and its was a great project to re-plant the canal with hardy water lilies, discovering seemingly unique planting structures along the way.
The canal is fed by the 1937 dated fish mouth from an upper terrace pool.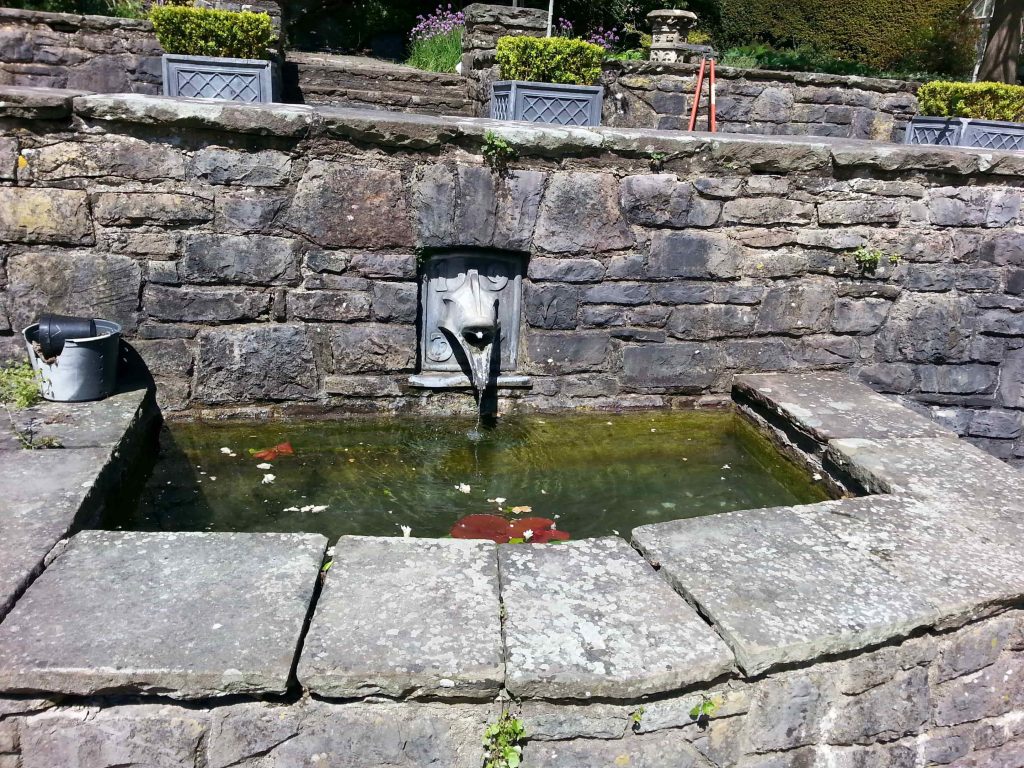 The water is drained via a stopcock on the slopes below the garden, revealing a dozen planting basins built into the structure of the canal.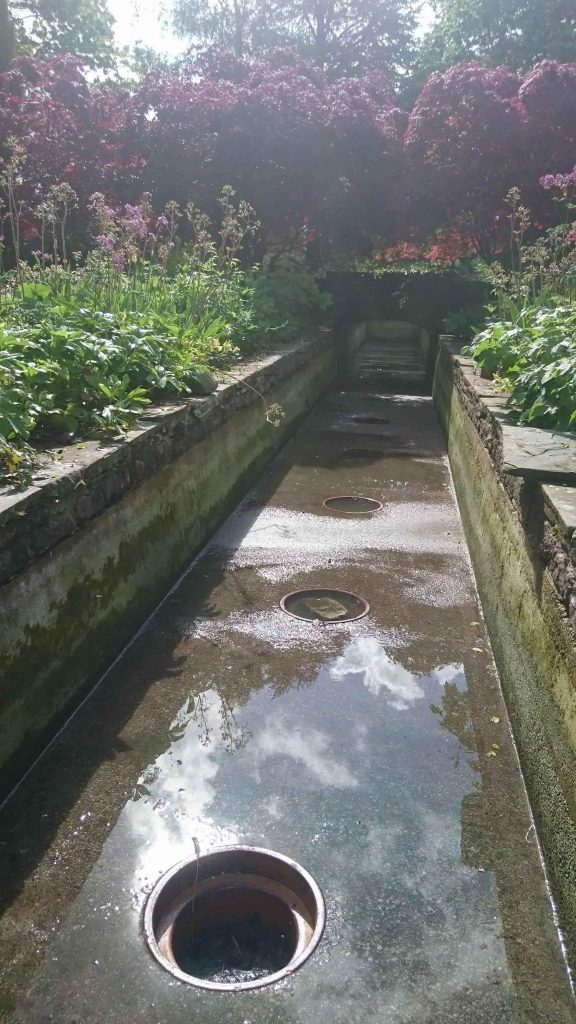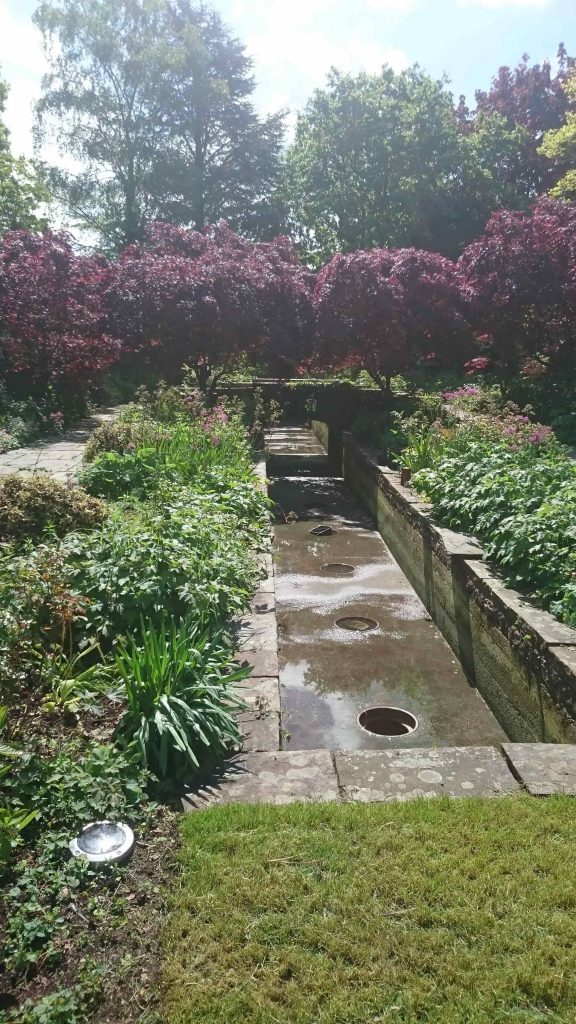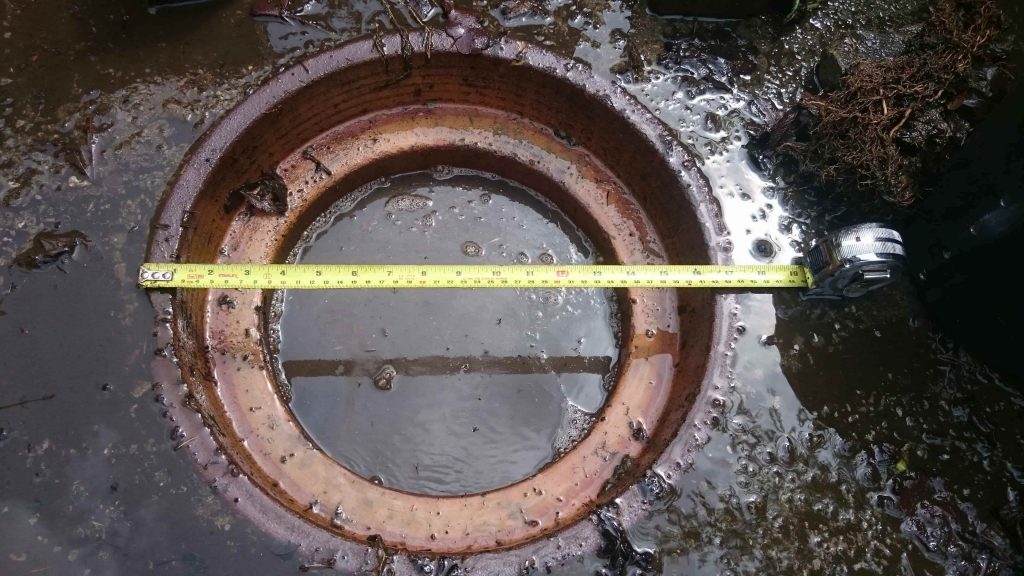 These basins are 2-3 ft deep (some deeper ones near the bridge) 16″ wide with a lip. Why 2-3 ft deep? Hardy water lilies types grow from tuberous rhizomes that spead sideways, indefinately whilst some water lilies have a more upright habit. They would have been planted in pots that sat in these planting holes at the right depth and could be lifted in and out for periodic maintenance.
Its possible (probable?) that these built in planters were to house tender lilies or lotus's that were very much the fashion of the day. They could then be easily lifted over winter and stored safely. (The older garden features a glasshouse with furnace wall but this was for the extensive kitchen garden that once supplied what was the Dower house to Leigh Court).
We decided, for now, on hardy water lilies and just one colour  – white – and chose Virginalis that can be planted upto 1m in depth. Anglo Aquatics provide good advice and even better plants. 10 litre pots were the perfect size to sit on the planting hole's lip, the plastic planter flush with the bottom of the canal. Square pots can be easily lifted in and out of a round hole!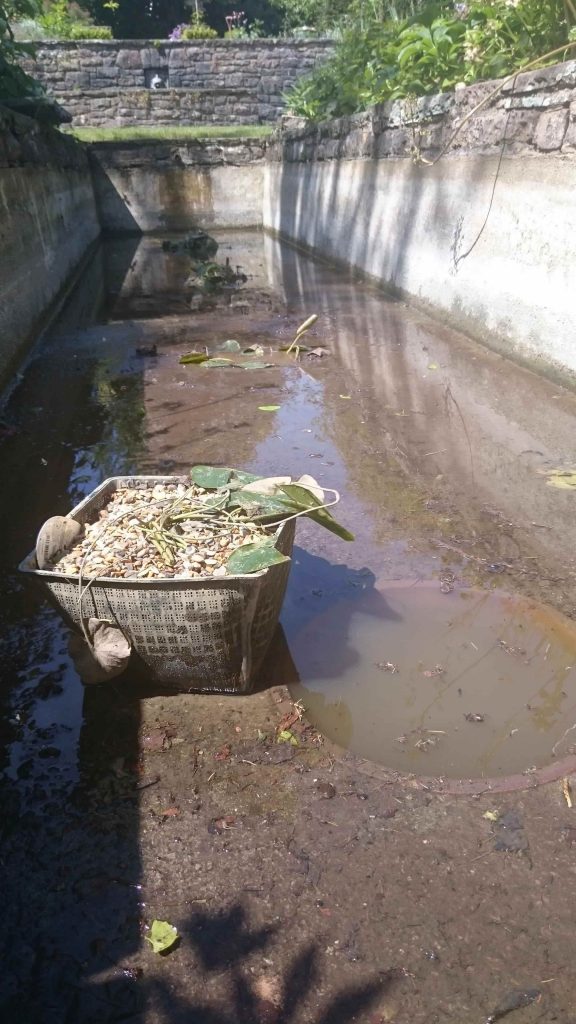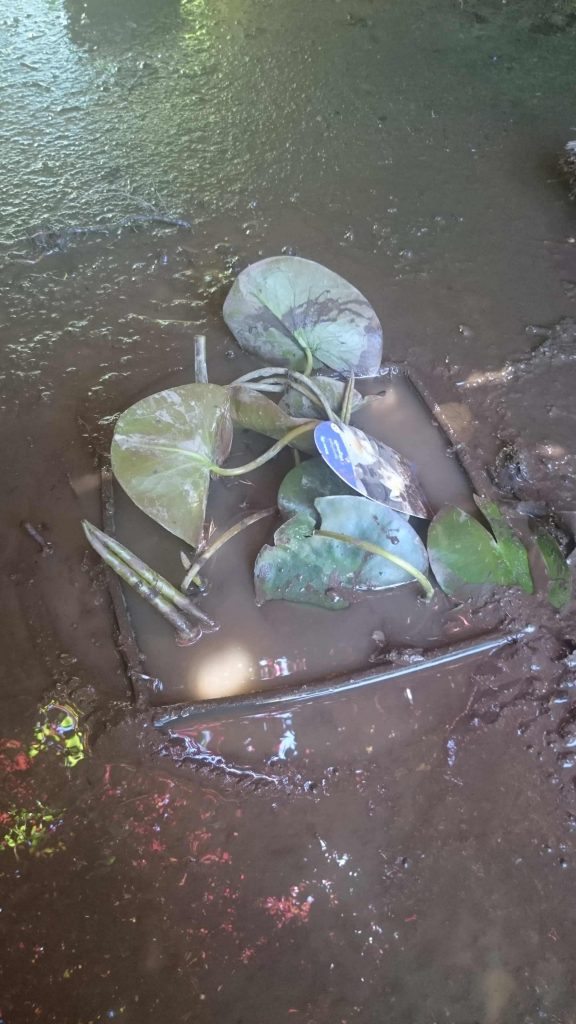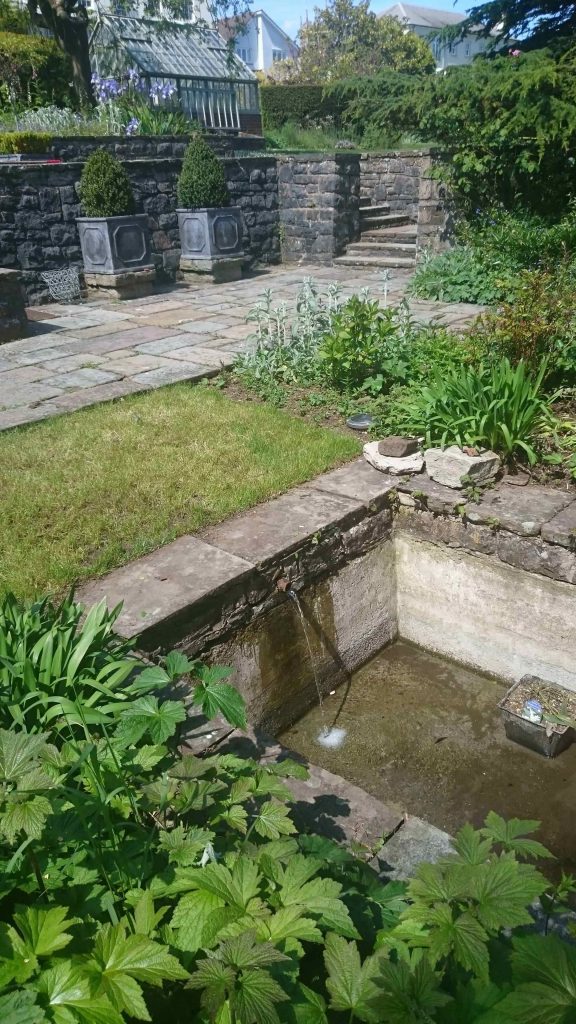 The canal takes two days to fill from its small feed pipe. We raised the level in stages as the new water lilies put out fresh leaves, making sure the plants weren't too deeply submerged in their new habitat.
Just coming into flower 3-4 weeks after planting.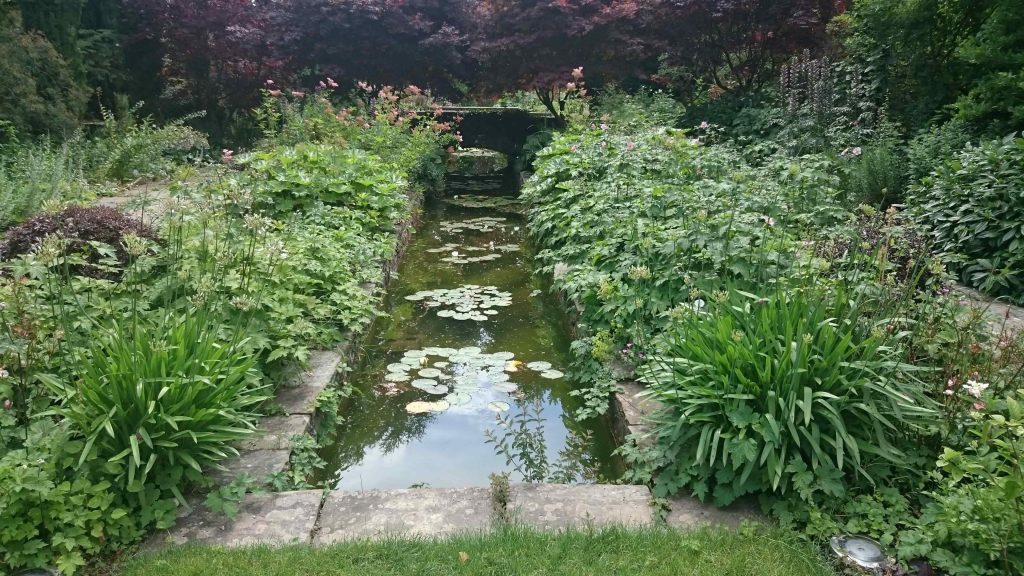 Now for the borders.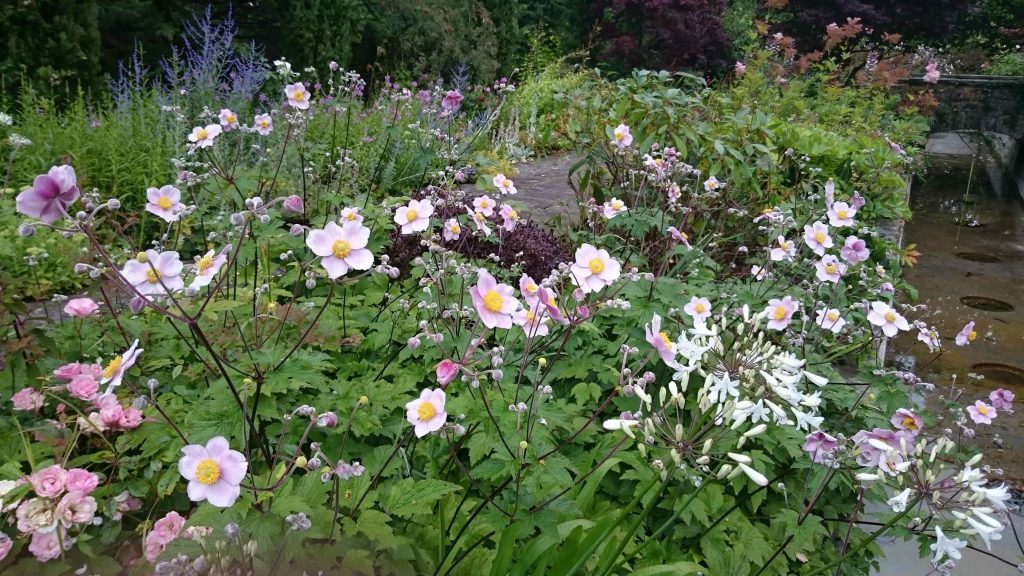 I'm frequently tempted by the classic formal look of bordering lawns, with the far borders dedicated to the lush, exuberant, classic herbaceous flower border. I'm not sure how much this is influenced by the high maintenance demands of this garden though. The plants intermingle with bindweed, vetch, invasive houttunyia making weeding a bit of a chore. Thinning, lifting and dividing and replanting are slowly making things a bit more mangeable though.