Plant Heritage (or the National Council for the Conservation of Plants & Gardens) is the worlds 'leading cultivated plant conservation charity'. In addition to overseeing National Plant Collections and the Threatened Plants Project, Plant Heritage runs the Plant Guardian Scheme through which rare, threatened or just unfashionable plants are conserved, propagated and shared – safeguarding them for future generations.
As much as I enjoy weeding, strimming and pruning, I am still quite a nerd when it comes to plants. Something out of the ordinary, a chance to get the hand lens and flora out is always worth a trip to a garden. Honest.
At Barrow Court in North Somerset I am lucky enough to be responsible for a Victorian garden that has seen a succession of gardeners, over the years, add rare and interesting plants to a fascinating collection. Its worth pointing out the original designer, F. Inigo Thomas (1865-1950) hated scientific collections, for him the final decision should always be about design – how the planting 'painted a picture'.
One such plant at Barrow Court that we are Plant Guardians for is Pittosporum dallii (pictured opposite the somewhat leggy Hydrangea aspera).
Pittosporum dallii
A native of New Zealand, P. dallii is listed as vulnerable on the IUCN Red List of Threatened Species (the International Union for the Conservation of Nature's programme designed to catalogue and highlight biodiversity facing global extinction). It is possibly more common in cultivation than in the wild today (which highlights the conservation role gardens can play in protecting global biodiversity).
It is a handsome evergreen shrub, some 10ft high, 8ft wide here at Barrow Court. The large leathery, stiff leaves, c.10cm in length are arranged around the dark purplish twigs and bud.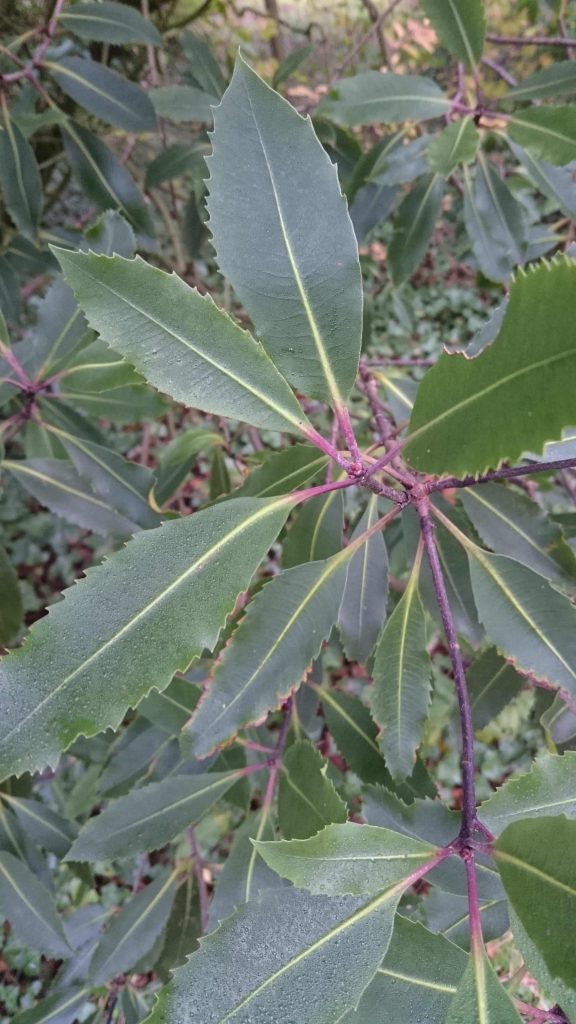 I've seen specimens in other gardens but it is not widely available (to say the least) in part owing to the difficulty in propagating the species. The original seed collected from New Zealand in 1913 was first grown at Kew in c.1914. Rarely flowering in cultivation it is also notouriously difficult to root cuttings, hence it not being widely available.
We are lucky at Barrow Court to be not too far from Pan-Global Plants at Frampton-on-Severn. Its owner, Nick Macer, was happy to pop in and take a good collection of shoot material for cuttings. Hopefully we'll have a good crop of cuttings from this superb plant to keep its legacy alive!