A gently sloping field, just under half an acre, facing south west, in Abbots Leigh in North Somerset, a village just across from Bristol's Clifton Suspension Bridge. It would have been difficult to think of anything other than planting an orchard here.  A traditional orchard in the SW would often have its individual trees spaced up to 30 foot apart. I was erring on the side of over-crowding with my 6m spacing, though the choice of rootstocks, semi-vigorous to vigorous, offers some creativity with this tradtional layout. A staggered grid of 5 rows of 7 trees gave a good variety of apples, pears, plums and quinces (the delights of Quince jelly).
Marking out the grid and planting positions, preparing the site and planting the bare root trees all took place over a couple of days in January 2016. The trees were all protected with just a simple plastic mesh as deer are a problem that cannot be ignored here on the edges of Leigh Woods and the Avon Gorge.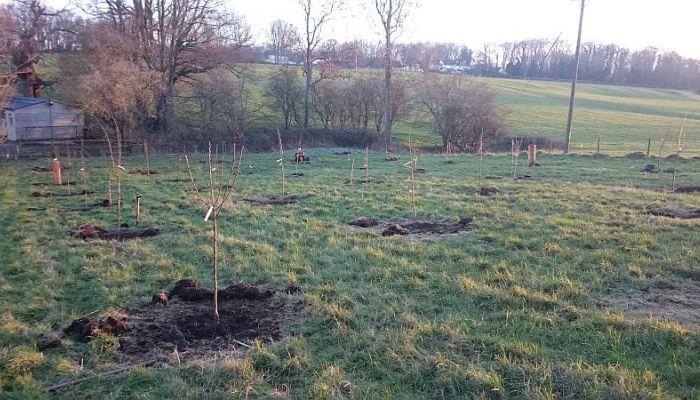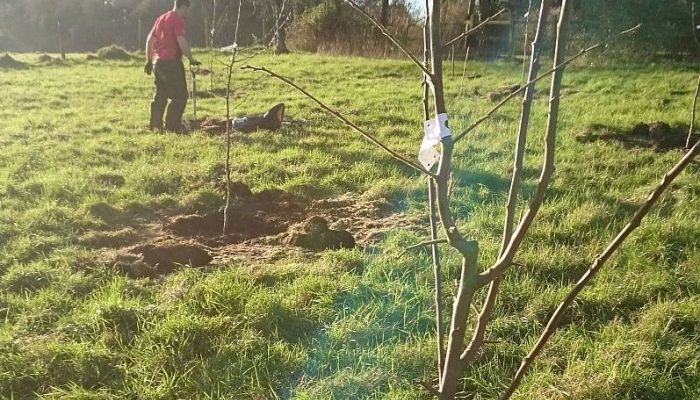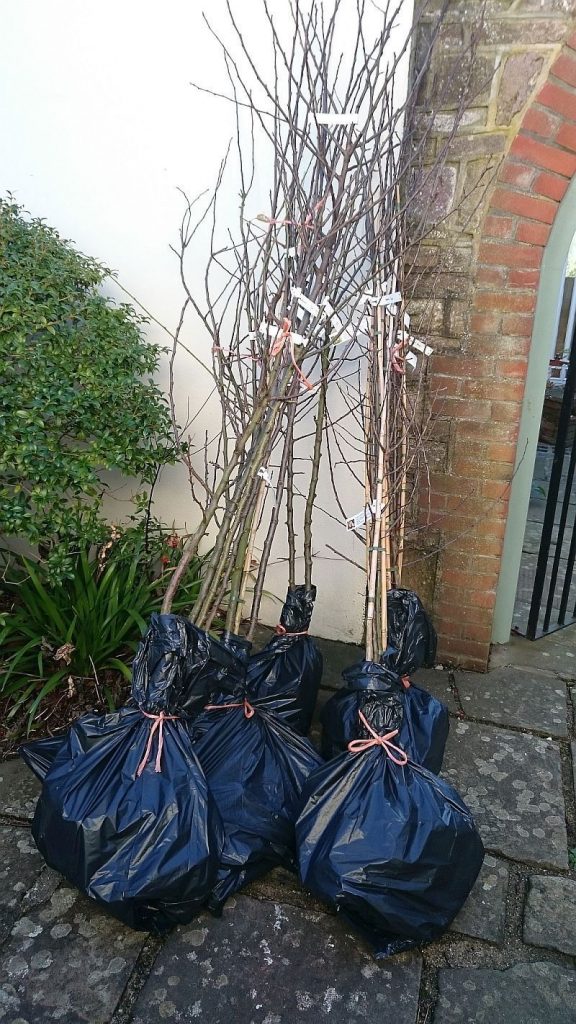 The trees were supplied by Rob Watkins at the excellent Lodge Farm Trees near Thornbury.  Rob's long term project, in conjunction with the Gloucestershire Orchard Trust's work in conserving the regions rare and endangered traditional orchards and fruit varieties is an exciting project.  Here we were supplied with mostly 2 year old's, some maidens. Rootstocks included M25, MM106, Pyrus communis, Quince A.
A combination of critically rare heritage varieties with more well known modern cultivars, dessert, culinary, cider and perry, hopefully will provide a bountiful harvest.
Summer 2016 Update
A dry summer but all trees well established and the deer have been successfully kept off. Some belated weeding and mulching now overdue and looking to some winter pruning to train them appropriately.