Heritage Orchards and Fruit
---
Planting new orchards, training espaliers, cordons and fans. Grafting heritage cutivars. Gareth and his team have a successful track record of conserving heritage fruit, designing and establishing new orchards and routinely pruning apples, pears, currants, plums in all shapes and sizes.
Some rough old scrumpy or a strange perry – more dung-like and foggy than light and sparkling. Its called character.
The best plum, apple or pear, flavoursome, juicy and perfectly sweet, picked straight from its tree and devoured on the spot, in an old orchard full of wildflowers, butterflies and birds. An irresistable temptation – too much for Eve.
Gareth & his team at Edwards Garden Services have a proven track record in managing and maintaining fruit trees, orchards and kitchen gardens in many situations. You may not have a spare half acre to plant up as a traditional orchard but for a dozen or so apple or pear cordons, you may not need more than the path to your front door.
I love growing fruit trees. Anything that is both functional, attractive and productive rates highly in my book. Spring blossom, summer and autumn fruit, winter structure, a plant that repays all year round cannot be ignored. Whether an individual standard fruit tree, one formally trained as an espalier, fan or cordon, or an orchard of fruit, the adaptability of fruit trees to many situations is one of their delights
We planted a traditional orchard in a village in North Somerset over the winter of 2015/16. Bare root trees from a local specialist nursery, a selection of semi-vigorous and vigorous rootstocks and modest deer protection. This spring was the hardest task (emotionally), pruning and training the blossoming plums to establish a good framework for the mature tree down the line (timing of stone fruit pruning can be important when managing disease).  As with all tree, shrub and climber pruning, the key is to understanding which wood your plant flowers and fruits on (new wood, one year old, two year old, older spurs etc).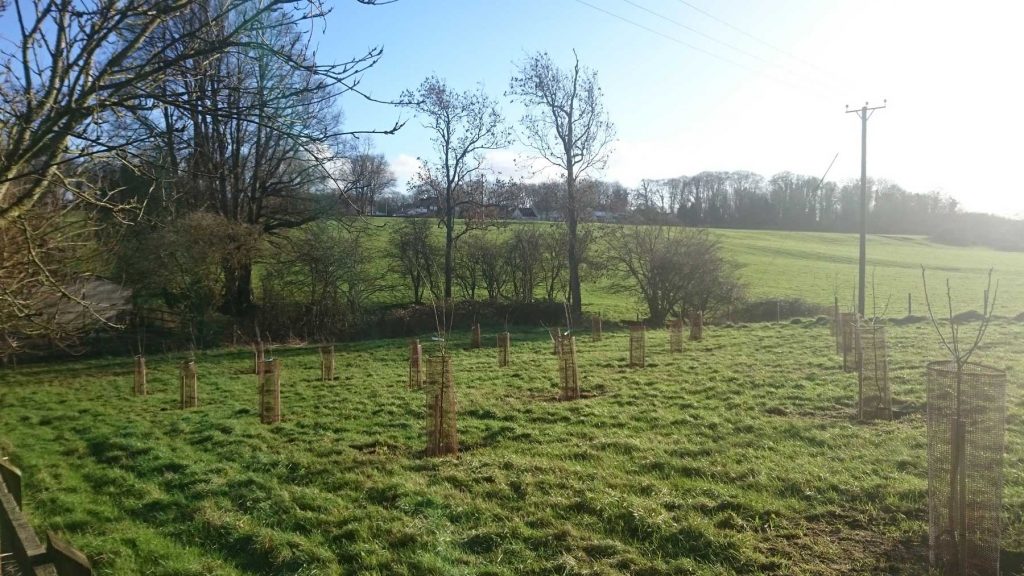 One of my favourite features is to plant apples and pears as cordons – essentially a hedgerow of fruit.  Spur pruned, angled stems on semi-dwarfing rootstcoks can make excellent boundary or screening features.
The wildlife value of orchards in well known particularly if the grassland is managed appropriately. Having a regular maintenance regime in place, year in, year out is the key to managing wildflower meadows.
The conservation of heritage varieties is an area I am particularly interested in. These ancient espaliers are some of the fruit trees we look after at Barrow Court in North Somerset.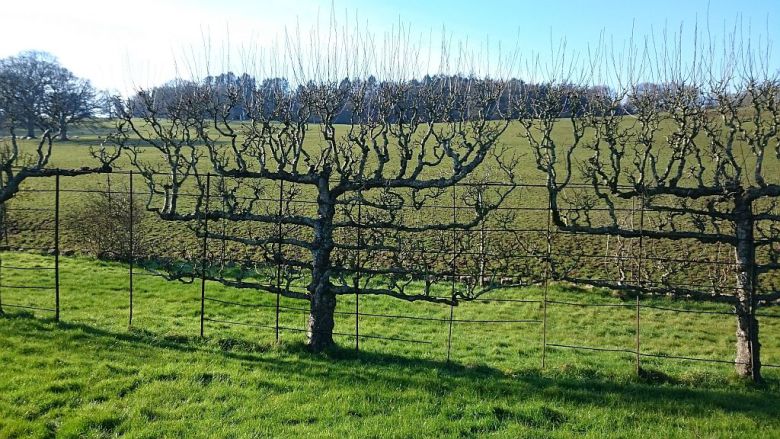 Over a hundred years old, these fruit trees are reaching the end of their life so propagating these heritage assets is important for a number of reasons; not only keeping rare varieties alive as a cultural and biological resource but what they say about the history of Barrow Court. And also, of course, the contribution to keeping alive the necessary horticultural skills! Grafting fruit trees is a specialist skill offered by Edwards Garden Services. We grafted these aging apples onto new rootstocks and replanted.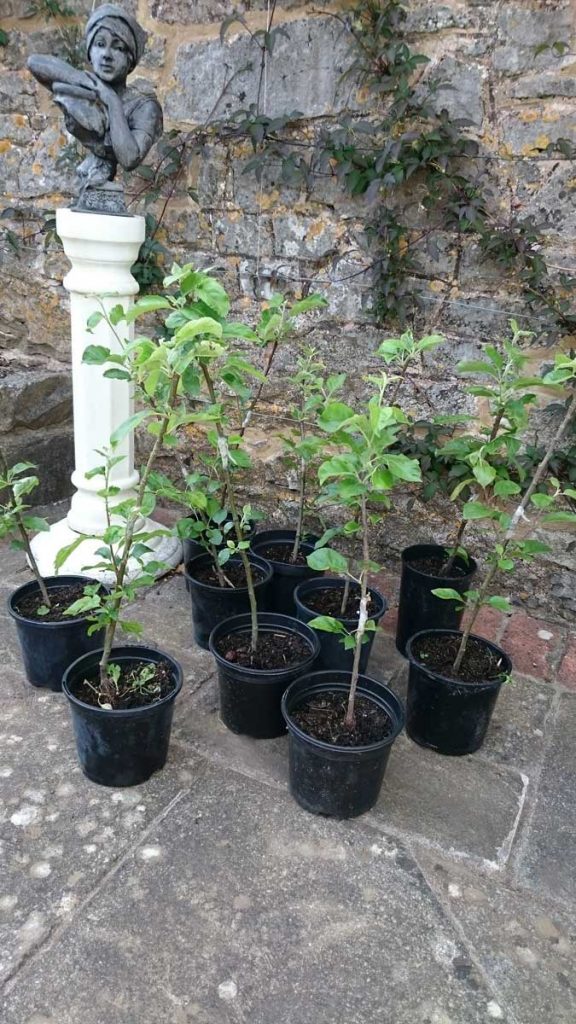 The newly grafted apple trees were replanted – some at there original home of the kitchen garden at Barrow Court and some found a new home in a restored walled garden in South Gloucestershire. Currently one year olds planted against the sunny wall but will in no time be decorating this wall as espaliers.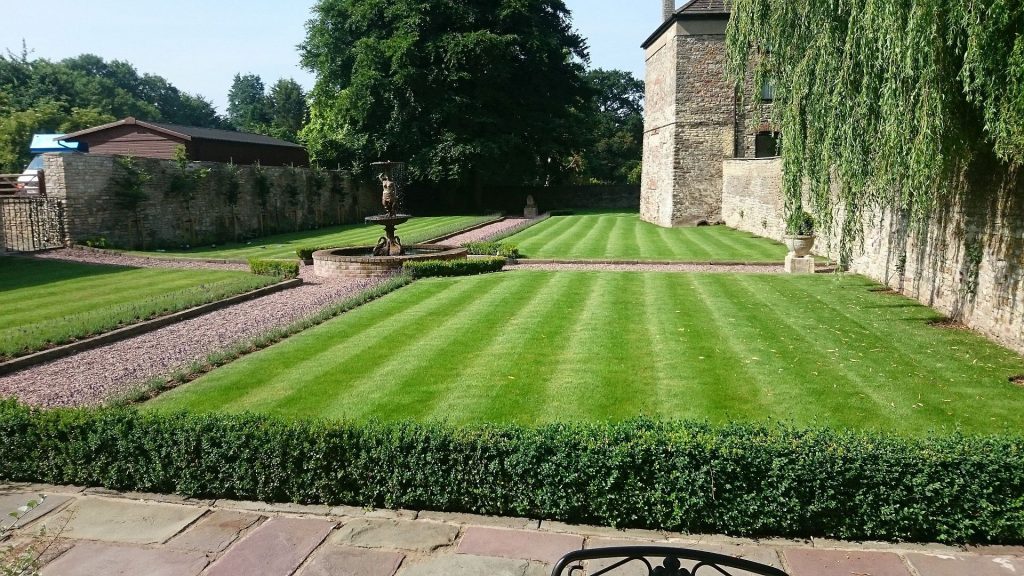 Would you like us to help you with this service or do you have any questions?
If so then do get in touch and we look forward to hearing from you.
Contact us